LISA BALLO
There are people who discover their destiny early on and follow it throughout their lives. Lisa Ballo is one such person. Practicing yoga and consciously pursuing personal growth for 30 plus years, she did trainings and classes and attended retreats whenever she could. But the dream was not to open a studio. It was simply to connect inward.
And then one day, she knew she had to make a change. Realizing her fast-paced career in advertising was no longer grabbing her heart, she had a revelation that she was to bring mindfulness practices to everyone – the busy executive, addicted adult, aging senior, those with special needs, and children in schools.
After seeing how stressed out everyone was, Lisa realized that what was most needed was a mobile mind-body well-being program that could go wherever it was needed. She envisioned this program to help bring light and love into their lives through a mix of life coaching, yoga therapy, mindfulness meditation, breathwork, and movement.
And thus, Belightful, Lisa's dream was born where she helps people achieve balance and realize their true self. That it is not a traditional studio fits perfectly with Lisa's life path. One of four siblings who have all been entrepreneurs, and the daughter of true artists, Lisa was raised to follow her own rhythm and carve a life path using her talent. She leads by example and empowers others to do the same.
Belightful was inspired by Lisa's love of travel, and appreciation of art and creativity.  Her years in the advertising business working with nationally recognized organizations from Sony to the NFL gave her the kind of experience that helped her constantly reimagine ways to bring mentoring, yoga, mindfulness, and dynamic movement to new audiences through innovative, intimate, engaging programs. As a conduit of collaboration, Lisa excels at meeting organizations' unique desires and pairing them with the best teachers to meet the students' needs.
Lisa says, "As my body grew stronger, I noticed that I was also more flexible in other areas of life, which helped me through the pressures and responsibilities life inevitably brings." This mindset is extremely important when working with groups that live every day with challenges, be they physical, mental, or emotional. For Lisa, meditation and movement have been a refuge and a path to internal calm. She seeks to bring this to everyone who needs it. As an experienced life coach, yoga therapist, movement, and meditation instructor, Lisa is trained in and incorporates many styles from traditional Ashtanga yoga to somatic movement therapies including Feldenkrais and authentic movement depending on each individual's uniqueness and what resonates in the moment.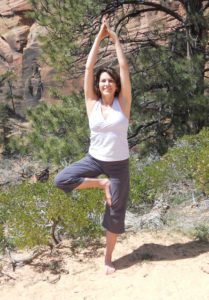 Lisa is a leader in bringing these practices to children as it's a tool she wishes she had at a younger age. She is a forerunner in providing yoga as a yearlong curriculum in schools and specializes in making it impactful and accessible to children of all abilities including those on the autism spectrum to those suffering emotionally.
Lisa has been revolutionary in merging yoga into healthcare settings. She gained invaluable experience providing yoga therapy for two years at Children's Hospital of Michigan, Detroit with patients in their rooms in the oncology, hematology, and nephrology unit and for those with behavioral health challenges. And during the coronavirus pandemic, she provided inpatient TV segments and helped establish the electronic medical record for yoga therapy for the hospital. She currently supports the Michigan Heart team at St. Joe's Mercy Intensive Cardiac Rehab unit instructing healthy-mindset workshops and yoga therapy sessions for their outpatients.
Lisa and her Belightful team provide life coaching services, professional growth training, workshops, and presentations designed to support individuals to break past barriers and step into their greatness.
Contact Lisa for her professional bio and to arrange a training, life guidance sessions, or comprehensive health and well-being program for yourself, a business or organizaiton.